Fabulous Forty-Niners Share Link to UMW Student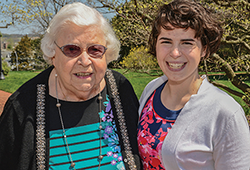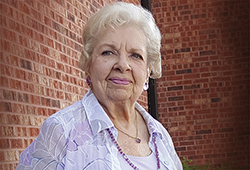 In May 2016, Claire J. Ashur of Vienna, Va., graduated Summa Cum Laude with a bachelor of arts degree in music, election to Phi Beta Kappa and Kappa Delta Pi, and multiple student awards. She also performed as vocalist with the UMW Jazz Band and — during her junior and senior years — was the proud recipient of the June Davis McCormick '49 Scholarship for vocal performance. Currently pursuing a UMW master's degree in special education, Claire now is the NEW recipient of the Anne Ross Parks '46 and Dolores May Ross '49 Teachers Scholarship.
While both scholarships were created by Heritage Society members and alumnae from the Class of 1949, a connection also exists in the way Claire intends to use her musical talents and interest in special education. "After graduating with my master's degree, I hope to teach high school students with autism or multiple disabilities," said Claire. "I can use my singing in working with students and, in my spare time, I plan to start my own jazz combo and perform at local venues."
A transplanted Virginian now living in St. Louis, Mo., June Davis McCormick received letters and video links showcasing Claire's vocal ability and her inspirational service work. The geographic distance, however, kept the two from meeting in person. Fortunately, June's classmate and good friend Dolores "Dee" Ross of Kilmarnock, Va., faithfully attended UMW's annual Heritage Society and Donor Appreciation Luncheons to meet recipients of the Ross scholarships; so, as she had done in previous years, Dee acted on June's behalf to meet Claire and pose for photos.
"What a lovely surprise arrived in my mailbox today," June wrote to the UMW Advancement staff. "This is a welcome picture of dear Dee meeting with my current recipient, certainly a cute Claire. I really appreciate your thoughtfulness in sending it."
In May 2016, the two '49ers learned that Claire had been awarded the Ross scholarship for teachers for the 2016-2017 academic year. Dee, a lifelong educator, was thrilled. "Well, Claire had an undergraduate scholarship from one member of the Class of '49, and now she can finish her master's degree with mine. Isn't that just dandy?"
Regrettably, Dee passed away in the summer of 2016, but the legacy of the Fabulous Forty-Niners continues as Claire — and students for generations yet to come — continue to accomplish good deeds and great works at Mary Washington and beyond.