Analyzing Success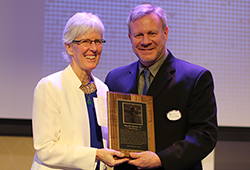 Phyllis Quinn '77 jokingly tells people her Mary Washington background led her to "do drugs" for 33 years. In fact, 28 of those years were with the Drug Enforcement Administration (DEA), where she worked as a forensic chemist and supervisor. Her assignment was to analyze materials that agents confiscated and prove whether or not they were controlled substances. As part of the job, she accompanied agents when they shut down clandestine laboratories, and she routinely testified in court.
Phyllis' foray into crime began with a brochure from a chemistry professor. "I wasn't exactly sure where my career was headed," says Phyllis. "Then one day, out of the blue, Dr. Mahoney gave me a brochure about a forensic chemistry master's program at the University of Pittsburgh. It just clicked with me."
After graduation from Mary Washington, Phyllis completed the suggested master's program. She worked three years at the state crime lab in Richmond, two years at Naval Intelligence Service (NIS then - now NCIS) in Pearl Harbor, and then headed to San Francisco for her longterm career with the DEA. "Through the years, the field of forensic science has come a long way," says Phyllis. "With my training and the proper tools, I was always confident that - if I called it - I knew I was right. I don't think I ever lost a case."
Earlier this year, Phyllis returned to the scene of the crime - the Mary Washington campus, that is - to discuss career options with chemistry students. She also attended a banquet in the University Center, where she was inducted into the UMW Athletic Hall of Fame for her record-breaking swimming.
How does swimming and chemistry go together? "During my freshman year, I played one season of basketball and then was asked to swim with the team for a few meets," says Phyllis. "I ended up swimming the next three years, competing against women's teams at schools like University of Virginia, William and Mary, and Sweetbriar."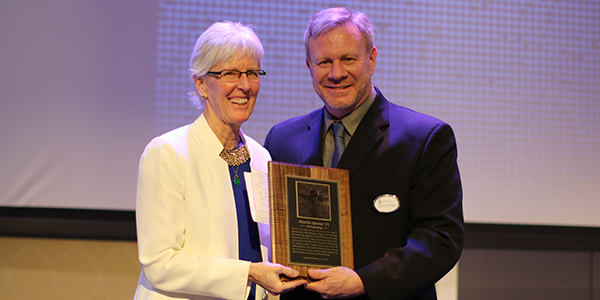 In February 2017, Phyllis Quinn '77 is inducted into the UMW Athletic Hall of Fame.
---
All in all, Phyllis credits her involvement in Mary Washington academics, swimming, and student government for the development of valuable time management and leadership skills that buoyed her throughout life. In June 2017, she plans to celebrate her 40th reunion with members of the Class of 1977. To support giving efforts, Phyllis recently announced a bequest pledge for the chemistry department and women's swimming.
"My husband and I just went through the whole process with trusts and wills, and it seemed the perfect time to let Mary Washington know of our estate plans," says Phyllis. "Chemistry and swimming are my two loves, and they have served me well through life."