Gift Annuity Enables Alumna to Enjoy Act of Giving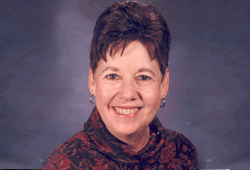 Margaret "Maggie" Walker MacAllister '62 says professors at Mary Washington changed her life. "I loved Mary Washington, and when I first enrolled, I planned to go into the medical field," she explains. "One of my professors told me I was on the wrong career track, and I decided he was right. I changed my major to English and went on to get my certification to teach."

Maggie says the Mary Washington education department helped arrange her first professional job as an English teacher in Henrico County. She later married Rocco "Mac" MacAllister, whom she met on a blind date during her first year at Mary Washington. Mac graduated from West Point, entered the U.S. Air Force, and that kicked off several years of travel for the MacAllister family.

When they moved back to Virginia in the 1980s, Maggie completed a master's degree program at George Mason University and then taught for 16 years at Beverly Manor Middle School in Staunton, Va. Today, her hobby and passion is working with her Tennessee Plantation Walking Horses. "Plantation Walking Horses can do anything any other horse can do," Maggie says, "but they just do it more comfortably."

Maggie recently contacted the University of Mary Washington Foundation to arrange for a gift annuity. "Mary Washington was a very important part of my life. I worked in the dining hall all four years and couldn't always afford everything, but I know I received an excellent education," says Maggie. "I planned to leave a bequest to Mary Washington anyway, but once I started thinking and talking about it, I decided to go ahead and do it now. Students at Mary Washington will benefit from our gift, and Mac and I will enjoy knowing we are helping in an important way."


---